Unit price gains erased in Sydney, Melbourne
Unit markets around the country are now outpacing houses in the rate of price decline, with the east coast state capitals leading the downhill charge.
Two years of large gains in unit prices have been wiped out altogether in Sydney and Melbourne.
Other capital cities have fared better but the unit markets around the country are now outpacing houses in the rate of price decline.
Consecutive rate hikes, low sentiment and reduced lending capacity continue to weigh heavily on housing demand as declining unit values become more widespread.
Since peaking in April, CoreLogic's national unit index has decreased by 2.3 per cent, with values declining by approximately $14,400 over the past four months. Making up 78.3 per cent of Australia's unit supply, the combined capitals recorded a larger decline in unit values relative to the regional areas, falling 2.7 per cent or around $17,500 since April.
Australia is not alone in confronting rising costs of living and higher interest rates but its property market is reacting far more negatively than elsewhere in the world.
Knight Frank has released both its Global House Price Index and Global Residential Cities Index for Q2 2022, which reveal that global house prices are steadily increasing while the Australian housing market is showing signs of a notable slowdown.
Overall, the global index is still rising at 10 per cent per annum with 51 of the 56 tracked countries continuing to register an increase in house prices.
At 0.8 per cent, Australia saw the third largest decline in prices on a 3-month basis.
Erin van Tuil, Knight Frank's Head of Residential, said they can expect sentiment to be dampened across the Australian residential market, with anticipated subdued or downward pressure on property prices over the next 18 months.
"We anticipate trends will move back towards positive territory in 2024 given the undersupply of new properties being built across the country."
Making up 78.3 per cent of Australia's unit supply, the combined capitals recorded a larger decline in unit values relative to the regional areas, falling 2.7 per cent or around $17,500 since April.
Regional units, with a more affordable median value (approximately $110,000 below the capitals), have been more resilient, with values falling 1.3 per cent since peaking in June, equivalent to a loss of around $7,000.

Kaytlin Ezzy, Economist, CoreLogic, said the current tightening cycle has seen the cash rate rise 2.25 per cent in just five months, the fastest increases seen since 1994.
"While Australia's unit market has been somewhat more resilient to falling values than the detached housing segment, it has not been immune, with many households being sensitive to increased interest rates due to high debt levels along with high inflation."
"Despite the current decline being the fastest on record, it's important to remember the context of the past two years. 
"While capital city unit values are just 0.5 per cent higher than this time last year, they are still 7.7 per cent above pre-COVID levels."
Perth the cheapest
Unit values managed to claw some gains in the month to end of August in three state capitals; Adelaide (1.1 per cent), Darwin (0.6 per cent) and Perth (0.4 per cent).
Only Sydney and Melbourne, at minus 2.5 and 0.6 per cent respectively, are in negative territory over the past year.
Hobart and Sydney recorded the largest monthly declines in unit values, falling 1.7 per cent and 1.5 per cent respectively, while values across Melbourne declined by 0.6 per cent.
Canberra's medium to high-density sector recorded its second month-on-month decline, taking values 1.2 per cent below the peak levels recorded in June, while Brisbane units saw values fall for the first time since October 2020, decreasing 0.2 per cent over the month.
Perth remains the cheapest capital city for both houses and units, according to the Real Estate Institute of Australia's Real Estate Market Facts report for the June quarter.
The Western Australian capital had a median house price of $530,000, which is 47.6 per cent lower than the national median.
The median house price was $663,000 in Adelaide, $758,875 in Brisbane, $790,000 in Hobart, $1 million in Canberra, $1.08 million in Melbourne and $1.55 million in Sydney.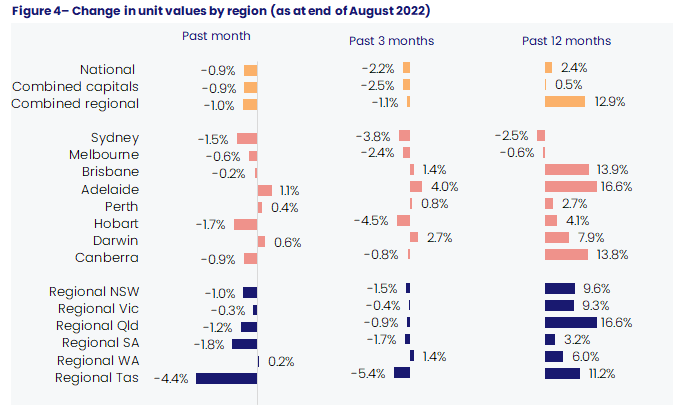 With more supply expected to hit the market over the spring selling season, more downward pressure on unit prices is likely.
But senior Reserve Bank of Australia (RBA) personnel still expect unit to be more resilient in the current real estate downturn than high-priced houses.
Jonathan Kearns, Head of Domestic Markets for the RBA said houses at the luxury end of the market are likely to be hit harder by falling property prices than flats or apartments.
Mr Kearns said the relatively large drop in property prices at the high end of the market would narrow "the distribution of housing wealth" but those effects are typically temporary.
Houses also tend to be more sensitive to changes in interest rates than apartments. The limited supply of available zoned land partly explains this result, he said.
No renters' reprieve 
For renters, any increased supply or listings that would further dampen prices is not translating into lower accommodation costs.
Up 1.1 per cent over the month and 3.6 per cent over the three months to August, national unit rents are now 11.3 per cent higher than this time last year. National vacancy rates have continued to tighten, from 1.4 per cent in July to 1.3 per cent in August.
The median weekly rental value for national units made up a record high 28.6 per cent of the average household wage, up from 27.6 per cent the same time last year.
"As worsening rental affordability, coupled with high non-discretionary inflation puts further pressure on tenants' balance sheets, we could see the average household size revert back to pre-pandemic levels, as renters attempt to share the additional rental cost burden," CoreLogic's Ms Ezzy said.
"While a trend towards larger rental household would likely have the effect of reducing rental demand, it's possible this decrease could be offset by a rise in demand from international sources, as overseas migration returns to pre-COVID levels."